SCCHS is dedicated to providing safe and secure temporary housing to the homeless while facilitating housing independence.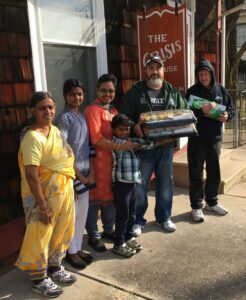 Donations no matter how large or small are the backbone of our agency. Through the continual support from social groups, churches, businesses and individuals, we are able to provide the much needed services.
Financial support and donated items allows us to continue to help the residents of Sussex County achieve independence and self-sufficiency while in our programs.
Monetary Donations
We are currently conducting our Annual Appeal for financial assistance. Our funding has been drastically decreasing and, with your help, we can continue to meet the growing needs of the many homeless families affected by the struggling economy.
Monetary donations can be accepted:
1. Through our PayPal account


2. By check made payable to SCCHS, Inc. and sent to the address below:
SCCHS, Inc.
110 N. Railroad Ave.
Georgetown, DE 19947
To donate or volunteer, call 302.856.2246 or email us at info@scchsinc.org
Item Donations
Below is a list of NEW items we accept for the Crisis House and Transitional Housing Programs:
Towels and wash clothes
Twin bed sheets, blankets and pillows (New)
Toiletries and personal items for men, women and children
Kitchen supplies, cookware, utensils, bowls, storage containers
Cleaning supplies and laundry soap
Paper towels, toilet paper and facial tissues
Coffee, tea, sugar, powdered drink mix
Office Supplies
Any and all food donations are always welcome!
Our need is diverse and perpetual, it enables us to create and maintain a nurturing environment for our residents that are comfortable, encouraging and empowering.
*All donations are tax deductible